TO PLACE AN ORDER CALL: (800) 672-1238
Canada customers may call: (215) 620-3013
New Hoods!!

CHA-850 '92-'96 BMW Alpina Custom Hood

CHA-154 1964 Chevelle/El Camino
4" Cowl Induction

CHA-998 1997- 2004 Corvette
427 "Stinger" Hoods

CHA-352 '70-'72 Chevelle
427 "Stinger" Hoods

Now in Production!!!!
1969 - 72 Olds 442 Ram Air Hoods

Coming Soon Spring 2015 :

2010 Camaro Short Stinger Hood

1955 Chevy 2 1/2" Cowl Hoods

COMING SOON!!

Here's a sneak peek at our

2010 Camaro Short Stinger Hood!
Here at FiberConcepts we manufacture
350 different hoods!
Click on our HOODS tab to see what we have to offer!


As a quality manufacturer of fiberglass hoods, FiberConcepts' hoods are gelcoated - three layers

of hand-laid fiberglass with a black gelcoated frame epoxied on. Complete with black underlay

and tapped metal inserts for your stock bolts &

hinge plates.

The fit of every hood is fantastic and have been trial fitted on many vehicles over the past 30+ years! All of our hoods also come ready with hardware to be bolted onto your car, then it's ready for paint. While these hoods are primarily used on show cars, they can be placed on your everyday vehicle to add more muscle to your ride. Additionally, all hoods come with a warranty and refund policy as long as the hood has not been customized, drilled, or painted.


El Camino Chevelle/El Camino
Camaro Nova
Vega Monte Carlos
Olds/Cutlass Buick Regal & Grand Sport
Datsun Firebird
Impala Mustang
Cougar Thunderbird
Lincoln Chevy Trucks
Dodge Trucks

Ford Trucks
Toyota Trucks

Some of our Molds in our Shipping Department
FiberConcepts is your #1 source for quality fiberglass hoods that are far more superior than others out there. All our hoods are made in the United States and our materials come from the highest quality manufacturers. Stop by our locally owned and operated business today to see what we do to American-made muscle cars. Also, be on the lookout for upcoming car shows throughout the country and East Coast, so you can see some of our famous hoods!
Contact us today for more information on our fiberglass hoods
and be sure to ask about our convenient shipping
throughout the U.S. and Canada.

Quality and Service Are Paramount!
If you're looking for a great way to add beauty to your muscle
car, FiberConcepts has what you need. With our quality
fiberglass hoods, your truck or car won't go unnoticed. Visit us
today and see how great one of our hoods looks on your
American-made muscle car!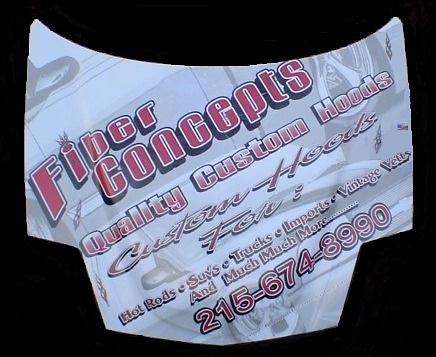 Contact us or visit our location in Warminster, Pennsylvania to see our
custom
hoods consisting of three layers of hand-laid fiberglass.
Here are a few hood examples FiberConcepts creates...
"Stinger" hoods, SS Style hoods, L88 hoods, Z28 hoods, Ram-air and cowl induction hoods.
These hoods fit some 350 American-Made muscle' street cars, and trucks such as
Dodge, Chevy, Ford, Camaro, Nova, El Camino, Firebird, Mustang, Thunderbird to name a few.
To place an order for your own custom fiberglass hood, please call
Call to Order: (800) 672-1238
For your convenience we accept Visa, Mastercard, Discover, check or money order.
sorry, No American Express.
Shipping available every business day to your residential or commercial address.
Serving the USA & Canada with quality custom hoods!
Hours of Operation:
Monday–Friday 8 a.m.–5 p.m. Eastern Time
Error: Component not initialized. Please retry.